All Countries
Change
Surge Suppressors Help Protect Solar PV Systems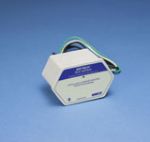 Over-voltages and surges from lightning activity are a major cause of equipment failure and system disruption in solar PV systems. The TDS50 series and SES40P series of surge suppressors, part of the ERITECH® line of facility electrical protection products from ERICO, are designed to provide economical and reliable protection for PV arrays, combiner boxes and inverters.
The TDS series consists of three models specifically designed for 300 V DC, 600 V DC and 1,000 V DC applications. They feature internal thermal disconnect devices to help ensure the suppressors do not overheat and cause system failure or damage. A visual indicator flag clearly indicates when the disconnect device has operated and the surge module is no longer functioning. As standard, the TDS50 series provides a set of voltage-free contacts for remote signaling that maintenance is required. They are recognized to UL 1449 Ed. 3 for Photovoltaic Systems.
The SES40P series consists of two models for 300 V DC and 600 V DC applications. They feature a NEMA®-4x enclosure and a LED status indication. They are listed to UL® 1449 Ed. 3 for Photovoltaic Systems as Type 1 devices, which allows them to be installed on the line or load side of the system.
NEMA is a registered service mark of National Electrical Manufacturers Association UL is a registered certification mark of UL LLC.
---
ERICO is a leading global designer, manufacturer and marketer of precision-engineered specialty metal products serving niche markets in a diverse range of electrical, construction, utility and rail applications. The company is headquartered in Solon, Ohio, USA with a network of sales locations serving more than 25 countries and with manufacturing and distribution facilities worldwide. ERICO's well-known brand names include: CADDY® electrical and mechanical fixings, fasteners and supports; CADWELD® welded electrical connections; CRITEC® surge protection devices; ERICO® rail and industrial products; ERIFLEX® low voltage power distribution; ERITECH® facility electrical protection; and LENTON® concrete products.