All Countries
Change
Remote Transducer Protector from CRITEC® Ensures Lowest Possible Residual Let-Through Voltage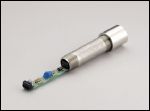 Industrial environments are prone to the dangerous and damaging voltage surges that can be induced onto 4-20mA signal and control circuits. When not kept in check, these transients can cause erroneous system operation or failure leading to capital loss and production downtime. The Remote Transducer Protector (RTP 3034) from CRITEC® uses a hybrid three-stage clamping circuit to protect sensitive transducers from transient currents with minimal added loop resistance. This efficient clamping-circuit technology ensures the lowest possible residual let-through voltage.
The RTP 3034 provides both common- and differential-mode transient protection for two-wire transducers. The high surge rating makes the unit well suited to the protection of exposed 4-20mA industrial loops.
A ¾-inch stainless-steel nipple housing makes the RTP 3034 suitable for hostile environments. The robust design of the device minimizes the risk of damage due to earth potential rise. A maximum surge rating of 20kA 8/20µs ensures high-level protection and long service life.
To simplify installation, the protection circuit can be removed from the enclosure to connect field wiring to the screw terminals. The RTP 3034 can be installed in a "T" configuration or in line. It supports line currents up to 145mA for protection of 24Vdc powered transducers. The unit comes with a five year limited warranty.
Additional Specifications
Nominal System Voltage Un 30V¹ 21V~
Max. Continuous Operating Voltage Uc 33V¹ 23V~
Max. Line Current IL 145mA
Frequency @ 3dB / 120W 2MHz
Max. Discharge Current Imax 20kA 8/20µs
Protection Modes Common mode, Differential mode
Technology Used 3 stage - GDT, MOV, SAD
Voltage Prot. Up @3kA L-L 44V
Loop Resistance 14 ohms
Physical Specifications:
Dimensions (Ø x length) ¾" x 4" (external Ø 11/8" approx.)
Thread ¾" NPT (National Pipe Thread - 14 threads/inch)
Weight 0.5lb
Enclosure 304 Stainless Steel
Connections £2.5mm2 (#14AWG)
Temperature Range -40°C to +65°C
(-40°F to +149°F)
---
ERICO is a leading global designer, manufacturer and marketer of precision-engineered specialty metal products serving niche markets in a diverse range of electrical, construction, utility and rail applications. The company is headquartered in Solon, Ohio, USA with a network of sales locations serving more than 25 countries and with manufacturing and distribution facilities worldwide. ERICO's well-known brand names include: CADDY® electrical and mechanical fixings, fasteners and supports; CADWELD® welded electrical connections; CRITEC® surge protection devices; ERICO® rail and industrial products; ERIFLEX® low voltage power distribution; ERITECH® facility electrical protection; and LENTON® concrete products.