XBQ/XBZ Molds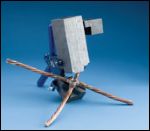 For cable-to-cable X-style connections at power substations and other commercial and industrial sites, there's never been a faster or easier way to make a reliable CADWELD® connection. This two-piece mold lets you make connections in a trench in about half the time it would take with compression connectors or other exothermic products - and at a fraction of the cost.
Features
Ergonomic two-piece molds use standard L160 and L159 handle clamps - the same clamps you use with other CADWELD molds
Saves labor costs - X-style connection can be made by one person in about 1 minute - much faster than other methods
Costs less than other models, thanks to innovative design techniques and advanced manufacturing technology
Simple to use - operates just like an XA-style mold, but there's no need to cut the cable!
Easy cable alignment

Also available in "smokeless" CADWELD® EXOLON model


Wear plate option now available for XBQ2Q2Q and XBQ2G2G molds!
Applications
The CADWELD XB molds are the quickest, most efficient way to make lapped, horizontal X-style connections on solid or concentric stranded cable for a variety of installations.
More Information
XB Mold Installation Instructions. Easy as 1, 2, 3!

Step 1
Position clean, dry cables in mold and close clamp.
Step 2
Insert disk, insert pour weld metal and starter material into crucible, and ignite to form the weld.
Step 3
Remove finished connection. Clean mold.
Ordering Information

Copper - AWG
Cable Size*
Mold Part No.
Weld Metal
Run
Tap
1/0 SOL
1/0 SOL
XBQ2B2B
#150
1/0 CONC
1/0 CONC
XBQ2C2C
#150
2/0 SOL
2/0 SOL
XBQ2F2F
#200
2/0 CONC
2/0 CONC
XBQ2G2G
#200
3/0 SOL
3/0 SOL
XBQ2K2K
#250
3/0 CONC
3/0 CONC
XBQ2L2L
#250
4/0 SOL
4/0 SOL
XBQ2P2P
#250
4/0 CONC
4/0 CONC
XBQ2Q2Q
#250
250 SOL
250 SOL
XBQ2T2T
2-#150
250 CONC
250 CONC
XBQ2V2V
2-#150
300 CONC
300 CONC
XBZ3A3A
2-#200
350 CONC
350 CONC
XBZ3D3D
#500
400 CONC
400 CONC
XBZ3H3H
3-#200
500 CONC
500 CONC
XBZ3Q3Q
3-#250
Copper - Metric
Conductor
Stranding
Mold Part No.
Weld Metal
25
7/2.14
XBCY1Y1
#65
35
19/1.53
XBCY2Y2
#90
50
19/1.78
XBCY3Y3
#150
70
19/2.14
XBQY4Y4
#200
95
37/1.78
XBQY5Y5
#200
120
37/2.03
XBQY6Y6
2-#150
150
37/2.25
XBZY7Y7
2-#200
185
37/2.52
XBZY8Y8
#500
240
61/2.25
XBZY9Y9
3-#250
300
61/2.52
XBZY0Y0
3-#250
COPPERWELD®
Cable Size*
Mold Part No.
Weld Metal
Run
Tap
7/#7
7/#7
XBQ9C9C
#200
7/#5
7/#5
XBQ9E9E
#250
19/#9
19/#9
XBQ9F9F
2-#150
19/#8
19/#8
XBZ9G9G
2-#200
19/#7
19/#7
XBZ9H9H
#500
19/#6
19/#6
XBZ9J9J
3-#250
*Consult factory for molds to fit other cable sizes or run/tap combinations.
NOTES:

XBQ2Q2Q and XBQ2G2G molds are available with wear plates.
Special cleaning tool supplied with each mold.
All Q molds require L160 Handle Clamp.
All Z price molds require L159 Handle Clamp.
WARNING
ERICO products shall be installed and used only as indicated in ERICO's product instruction sheets and training materials. Instruction sheets are available at www.erico.com and from your ERICO customer service representative. Improper installation, misuse, misapplication or other failure to completely follow ERICO's instructions and warnings may cause product malfunction, property damage, serious bodily injury and death.
WARRANTY
ERICO products are warranted to be free from defects in material and workmanship at the time of shipment. NO OTHER WARRANTY, WHETHER EXPRESS OR IMPLIED (INCLUDING ANY WARRANTY OF MERCHANTABILITY OR FITNESS FOR A PARTICULAR PURPOSE), SHALL EXIST IN CONNECTION WITH THE SALE OR USE OF ANY ERICO PRODUCTS. Claims for errors, shortages, defects or nonconformities ascertainable upon inspection must be made in writing within 5 days after Buyer's receipt of products. All other claims must be made in writing to ERICO within 6 months from the date of shipment or transport. Products claimed to be nonconforming or defective must, upon ERICO's prior written approval in accordance with its standard terms and procedures governing returns, promptly be returned to ERICO for inspection. Claims not made as provided above and within the applicable time period will be barred. ERICO shall in no event be responsible if the products have not been stored or used in accordance with its specifications and recommended procedures. ERICO will, at its option, either repair or replace nonconforming or defective products for which it is responsible or return the purchase price to the Buyer. THE FOREGOING STATES BUYER'S EXCLUSIVE REMEDY FOR ANY BREACH OF ERICO WARRANTY AND FOR ANY CLAIM, WHETHER SOUNDING IN CONTRACT, TORT OR NEGLIGENCE, FOR LOSS OR INJURY CAUSED BY THE SALE OR USE OF ANY PRODUCT.
LIMITATION OF LIABILITY
ERICO excludes all liability except such liability that is directly attributable to the willful or gross negligence of ERICO's employees. Should ERICO be held liable its liability shall in no event exceed the total purchase price under the contract. ERICO SHALL IN NO EVENT BE RESPONSIBLE FOR ANY LOSS OF BUSINESS OR PROFITS, DOWNTIME OR DELAY, LABOR, REPAIR OR MATERIAL COSTS OR ANY SIMILAR OR DISSIMILAR CONSEQUENTIAL LOSS OR DAMAGE INCURRED BY BUYER.
Due to a policy of continued product development, specifications are subject to change without notice.
Copyright © 2013 ERICO International Corporation.
CADDY, CADWELD, CRITEC, ERICO, ERIFLEX, ERITECH, and LENTON are registered trademarks of ERICO International Corporation.