All Countries
Change
LENTON® FORM SAVER Anchor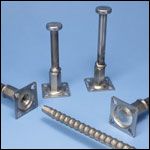 The LENTON® FORM SAVER Anchor mechanical rebar splicing system is a method of splicing rebar in segmental concrete construction applications. The coupler is friction welded to a headed anchor/shear stud and a reinforcing bar has LENTON® tapered threads that match the coupler. When the form is stripped, the end of the coupler is exposed. Simply remove the protective cap and screw in the taper threaded male dowel bar. Tightening with a pipe wrench is recommended to help assure a no slip connection or possible loosening during concrete vibration. This system eliminates bent bar anchorages, protruding dowels and the need to drill holes in expensive formwork.
Features
Replaces lap splice and hooked rebar
Eases congestion
A factory-installed cap protects internal threads
Manufactured in the US with domestically produced steel
Available through ERICO's approved Regional Manufacturing Center

Available in #4 and #5

Product Performance

LENTON FORM SAVER couplers are designed to meet or exceed:

AASHTO®

ACI® 318 Type 1 (125% Specified Yield)

ACI 318 Type 2 (Specified Ultimate)

IBC® Type 1 & 2

US Army Corps of Engineers

Contact ERICO for specifications not listed
Applications
The LENTON FORM SAVER Anchor system is ideal in situations where space is critical, such as:

Segmental concrete decks
Stairwells
Crane openings
Floor slab to wall connections
Beam column connections
After Concrete Pour

Install Rebar

The form removal is quick and the protective metal disc is easily removed

with a screwdriver.

With the disc removed, the clean internal threads are exposed.

Align LENTON taper threaded dowel bar to the LENTON FORM SAVER Anchor coupler.

Screw in the LENTON taper threaded dowel bar and tighten with a pipe wrench.
More Information
The LENTON FORM SAVER Anchor mechanical rebar splicing system conforms with ASTM® A29/A29M and the headed anchor/shear stud is C-1010/C-1020 AWSD1.1 and ASTM-A108 compliant.

The LENTON bar-to-coupler connection is recognized by or meets the standards of ACI 318; IBC, UBC-97; A.A.S.H.T.O. Section 8.32.2.3; Concrete Reinforcing Steel Institute; US Army Corp. of Engineers #CW03210; and DOTs in CA, FL, GA, IL, NY, NC and TX.

LENTON FORM SAVER Anchor Headed Coupler w/ Plate & Thread Protection

| | | | | | |
| --- | --- | --- | --- | --- | --- |
| In./Lb. | Bar Size US Metric | Part Length | Part Number | Per Piece Weight | Minimum Embedment * |
| #4 | 12 | 5-7/8" | ELP4X6 | 0.8 | 4-5/8" |
| #4 | 12 | 6-7/8" | ELP4X7 | 0.9 | 4-5/8" |
| #4 | 12 | 8-1/8" | ELP4X8 | 1.0 | 4-5/8" |
| #5 | 16 | 6-1/8" | ELP5X6 | 1.0 | 5-5/8" |
| #5 | 16 | 7-1/8" | ELP5X7 | 1.1 | 5-5/8" |
| #5 | 16 | 8-1/8" | ELP5X8 | 1.2 | 5-5/8" |
*Minimum embedment length required to develop 125% of minimum specified yield of ASTM A-615
Grade 60 reinforcing steel in 3000-5000 psi concrete (based on ASME®/ACI codes)

Refer to complete installation instructions supplied with the product and shown in the supporting documents section of this web page.
AASHTO is a registered trademark of American Association of State Highway and Transportation Officials
ACI is a registered trademark of American Concrete Institute
ASME is a registered trademark of The American Society of Mechanical Engineers
ASTM is a registered trademark of American Society for Testing and Materials
IBC is a registered trademark of International Code Council, Inc.

Downloads
Availability
North America

Warning, Warranty and Limitation of Liability
WARNING
ERICO products shall be installed and used only as indicated in ERICO's product instruction sheets and training materials. Instruction sheets are available at www.erico.com and from your ERICO customer service representative. Improper installation, misuse, misapplication or other failure to completely follow ERICO's instructions and warnings may cause product malfunction, property damage, serious bodily injury and death.
WARRANTY
ERICO products are warranted to be free from defects in material and workmanship at the time of shipment. NO OTHER WARRANTY, WHETHER EXPRESS OR IMPLIED (INCLUDING ANY WARRANTY OF MERCHANTABILITY OR FITNESS FOR A PARTICULAR PURPOSE), SHALL EXIST IN CONNECTION WITH THE SALE OR USE OF ANY ERICO PRODUCTS. Claims for errors, shortages, defects or nonconformities ascertainable upon inspection must be made in writing within 5 days after Buyer's receipt of products. All other claims must be made in writing to ERICO within 6 months from the date of shipment or transport. Products claimed to be nonconforming or defective must, upon ERICO's prior written approval in accordance with its standard terms and procedures governing returns, promptly be returned to ERICO for inspection. Claims not made as provided above and within the applicable time period will be barred. ERICO shall in no event be responsible if the products have not been stored or used in accordance with its specifications and recommended procedures. ERICO will, at its option, either repair or replace nonconforming or defective products for which it is responsible or return the purchase price to the Buyer. THE FOREGOING STATES BUYER'S EXCLUSIVE REMEDY FOR ANY BREACH OF ERICO WARRANTY AND FOR ANY CLAIM, WHETHER SOUNDING IN CONTRACT, TORT OR NEGLIGENCE, FOR LOSS OR INJURY CAUSED BY THE SALE OR USE OF ANY PRODUCT.
LIMITATION OF LIABILITY
ERICO excludes all liability except such liability that is directly attributable to the willful or gross negligence of ERICO's employees. Should ERICO be held liable its liability shall in no event exceed the total purchase price under the contract. ERICO SHALL IN NO EVENT BE RESPONSIBLE FOR ANY LOSS OF BUSINESS OR PROFITS, DOWNTIME OR DELAY, LABOR, REPAIR OR MATERIAL COSTS OR ANY SIMILAR OR DISSIMILAR CONSEQUENTIAL LOSS OR DAMAGE INCURRED BY BUYER.
Due to a policy of continued product development, specifications are subject to change without notice.
CADDY, CADWELD, CRITEC, ERICO, ERIFLEX, ERITECH, and LENTON are registered trademarks of ERICO International Corporation.