All Countries
Change
LENTON® MASON LOCK Masonry Rebar Splices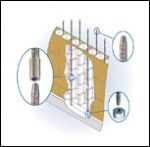 Changes to the Building Code Requirements for Masonry Construction require longer lap lengths for some bar sizes. These changes mean more congestion in masonry cells and more difficult construction. To alleviate this problem, builders can either use open-cell blocks, which are quite expensive, or use mechanical rebar couplers to eliminate the lap.
LENTON® MASON LOCK is a taper-threaded coupler that quickly and easily connects two pieces of rebar. This cost-effective connector uses the time-tested, field-proven taper thread to help assure strength, consistency and reliability while simplifying installation. LENTON taper-threaded splices are designed for use on worldwide standard grades of rebar and meet ACI®-318, BS EN 1992-1-1 and DIN EN 1992-1-1 full-tension splice requirements and many other international standards. LENTON couplers are available in sizes #3 - #18 (10 mm - 57 mm).
Features
LENTON MASON LOCK taper-threaded splices:
Designed to eliminate lap splices in CMU block walls.

Accelerate construction schedules. They are one of the fastest systems to install.

Help ensure easy installation with the problem-solving taper-thread design.

Are excellent for future extension applications.

Increase structural integrity
Applications
LENTON MASON LOCK serves as an effective alternative to open-cell blocks.
More Information
How it works:
1. Place the threaded male dowel into footer with the LENTON taper-threaded end pointing upwards covered by a breakaway thread protector cap. Specify dowel length – ½ lift height recommended Footer. Specify anchorage details for hook or LENTON® TERMINATOR Threaded Male Dowel Breakaway Bar Thread Protector Cap.

2. Install masonry block wall to heights or lifts that agree with current codes and standard practices. Recommended maximum dowel length is eight feet.
3. From the top of the masonry wall, reach down using the LENTON MASON LOCK assembly and tap the breakaway cap. The cap will break away, allowing the coupler to be threaded onto the rebar.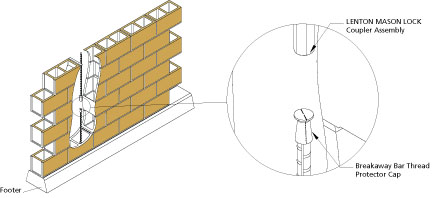 4. After the cap has broken away, hand tighten the LENTON MASON LOCK coupler assembly onto the protruding male dowel.
5. To complete the installation, grip the exposed length of rebar protruding from the top of the block wall with a pipe wrench. Tighten the LENTON MASON LOCK assembly in a clockwise rotation until tight. Refer to supplied installation instructions for recommended tightness.


(For additional lifts, repeat steps 2-5)


ACI is a registered trademark of the American Concrete Institute.

Downloads
Availability
North America

Warning, Warranty and Limitation of Liability
WARNING
ERICO products shall be installed and used only as indicated in ERICO's product instruction sheets and training materials. Instruction sheets are available at www.erico.com and from your ERICO customer service representative. Improper installation, misuse, misapplication or other failure to completely follow ERICO's instructions and warnings may cause product malfunction, property damage, serious bodily injury and death.
WARRANTY
ERICO products are warranted to be free from defects in material and workmanship at the time of shipment. NO OTHER WARRANTY, WHETHER EXPRESS OR IMPLIED (INCLUDING ANY WARRANTY OF MERCHANTABILITY OR FITNESS FOR A PARTICULAR PURPOSE), SHALL EXIST IN CONNECTION WITH THE SALE OR USE OF ANY ERICO PRODUCTS. Claims for errors, shortages, defects or nonconformities ascertainable upon inspection must be made in writing within 5 days after Buyer's receipt of products. All other claims must be made in writing to ERICO within 6 months from the date of shipment or transport. Products claimed to be nonconforming or defective must, upon ERICO's prior written approval in accordance with its standard terms and procedures governing returns, promptly be returned to ERICO for inspection. Claims not made as provided above and within the applicable time period will be barred. ERICO shall in no event be responsible if the products have not been stored or used in accordance with its specifications and recommended procedures. ERICO will, at its option, either repair or replace nonconforming or defective products for which it is responsible or return the purchase price to the Buyer. THE FOREGOING STATES BUYER'S EXCLUSIVE REMEDY FOR ANY BREACH OF ERICO WARRANTY AND FOR ANY CLAIM, WHETHER SOUNDING IN CONTRACT, TORT OR NEGLIGENCE, FOR LOSS OR INJURY CAUSED BY THE SALE OR USE OF ANY PRODUCT.
LIMITATION OF LIABILITY
ERICO excludes all liability except such liability that is directly attributable to the willful or gross negligence of ERICO's employees. Should ERICO be held liable its liability shall in no event exceed the total purchase price under the contract. ERICO SHALL IN NO EVENT BE RESPONSIBLE FOR ANY LOSS OF BUSINESS OR PROFITS, DOWNTIME OR DELAY, LABOR, REPAIR OR MATERIAL COSTS OR ANY SIMILAR OR DISSIMILAR CONSEQUENTIAL LOSS OR DAMAGE INCURRED BY BUYER.
Due to a policy of continued product development, specifications are subject to change without notice.
CADDY, CADWELD, CRITEC, ERICO, ERIFLEX, ERITECH, and LENTON are registered trademarks of ERICO International Corporation.