All Countries
Change
CADWELD® CADLOK Anode Contact Connection System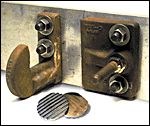 CADLOK is a system of connecting copper anode contacts to an aluminum busbar for primary pre-bake aluminum smelting.
Traditional MIG welding poses several inherent problems, including the need to drop the load or shut off the power prior to welding because of the electromagnetic field generated. The new CADLOK connection system solves many of the problems associated with traditional anode contact connections.
Features
Off-line and on-line connections - no line drops and no lost production due to downtime
Saves money
New installations or repairs
Connects in a magnetic environment
Adapts to any bus - standard shape
Unique locking grooves
Increased surface area in busbar weld
Reduced arcing - decreases potential for damaged surfaces
Less resistance - copper contact to copper rod Improved efficiency
No external power source required
Reduction of power losses
Applications
CADLOK has been designed specifically for connecting copper anode contacts to an aluminum busbar for primary pre-bake aluminum smelting.
More Information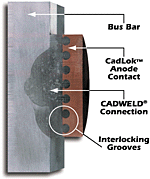 4 primary components work together to make CADLOK connections the best solution today for repairs or new installations:
1. mold
2. weld metal
3. contact
4. support fixtures
The CADWELD chemical reaction produces a molten metallic aluminum composition. This molten material flows through the mold and between the interlocking grooves of the CADLOK contact, thus "exothermically welding" itself to the busbar. In seconds the reaction is complete and a molecular bond is created.
CADLOK Installation
CADLOK is simple to install. ERICO offers hands-on training forCADLOK connections at no additional cost. If you prefer, ERICO personnel can provide the installation for you.
Step 1
Grind and clean the busbar where new CADLOK contacts will be mounted.
Step 2
Attach bracket tightly to busbar. Insert CADLOK contact and batting material into the mold. Fasten.
Step 3
Introduce the CADWELD welding materials into the mold.
Step 4
Close the mold and initiate the chemical reaction with the flint igniter.
Downloads
Warning, Warranty and Limitation of Liability
WARNING
ERICO products shall be installed and used only as indicated in ERICO's product instruction sheets and training materials. Instruction sheets are available at www.erico.com and from your ERICO customer service representative. Improper installation, misuse, misapplication or other failure to completely follow ERICO's instructions and warnings may cause product malfunction, property damage, serious bodily injury and death.
WARRANTY
ERICO products are warranted to be free from defects in material and workmanship at the time of shipment. NO OTHER WARRANTY, WHETHER EXPRESS OR IMPLIED (INCLUDING ANY WARRANTY OF MERCHANTABILITY OR FITNESS FOR A PARTICULAR PURPOSE), SHALL EXIST IN CONNECTION WITH THE SALE OR USE OF ANY ERICO PRODUCTS. Claims for errors, shortages, defects or nonconformities ascertainable upon inspection must be made in writing within 5 days after Buyer's receipt of products. All other claims must be made in writing to ERICO within 6 months from the date of shipment or transport. Products claimed to be nonconforming or defective must, upon ERICO's prior written approval in accordance with its standard terms and procedures governing returns, promptly be returned to ERICO for inspection. Claims not made as provided above and within the applicable time period will be barred. ERICO shall in no event be responsible if the products have not been stored or used in accordance with its specifications and recommended procedures. ERICO will, at its option, either repair or replace nonconforming or defective products for which it is responsible or return the purchase price to the Buyer. THE FOREGOING STATES BUYER'S EXCLUSIVE REMEDY FOR ANY BREACH OF ERICO WARRANTY AND FOR ANY CLAIM, WHETHER SOUNDING IN CONTRACT, TORT OR NEGLIGENCE, FOR LOSS OR INJURY CAUSED BY THE SALE OR USE OF ANY PRODUCT.
LIMITATION OF LIABILITY
ERICO excludes all liability except such liability that is directly attributable to the willful or gross negligence of ERICO's employees. Should ERICO be held liable its liability shall in no event exceed the total purchase price under the contract. ERICO SHALL IN NO EVENT BE RESPONSIBLE FOR ANY LOSS OF BUSINESS OR PROFITS, DOWNTIME OR DELAY, LABOR, REPAIR OR MATERIAL COSTS OR ANY SIMILAR OR DISSIMILAR CONSEQUENTIAL LOSS OR DAMAGE INCURRED BY BUYER.
Due to a policy of continued product development, specifications are subject to change without notice.
CADDY, CADWELD, CRITEC, ERICO, ERIFLEX, ERITECH, and LENTON are registered trademarks of ERICO International Corporation.