All Countries
Change
ERIFLEX® FLEXIBAR Flexible Insulated Busbar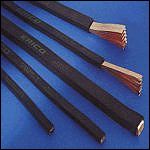 ISO 9001 certified quality control procedures and proprietary automated manufacturing processes have made ERIFLEX® FLEXIBAR a preferred conductor for panelboard designers and assemblers throughout Europe and the Americas. ERIFLEX FLEXIBAR has a long history of proven low voltage application success throughout the world.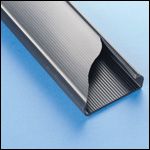 ERIFLEX FLEXIBAR has added grooves on the inner surface of the insulation sleeve to improve sliding between the central conductor and the insulation material. The grooves help reduce the contact surface between the central conductor and the insulation material. This results in improved flexibility of the flexible busbar. Result: <20% of the inner surface is in contact with the central conductor. This innovative insulation design makes ERIFLEX FLEXIBAR more flexible than ever, and allows users to optimize the design of their electrical power connection.

Features
ERIFLEX FLEXIBAR consists of a stack of thin copper laminates (available in plain or tin plated) and protected within a durable PVC insulation
Internal copper laminates are free to slide within the insulation, offering a wide variety of twisting and bending possibilities for panelboard assembly
Terminals are created by punching ERIFLEX FLEXIBAR laminates for optimum surface to surface connectivity
The cost of lugs and associated labor is eliminated when using ERIFLEX FLEXIBAR. It is a cost effective alternative to large diameter electrical cable with lugs or solid busbar for panelboard construction
The insulation is a high-resistance, self-extinguishing PVC or silicone compound
Traceability code and designation Part Number are marked on product
Easily formed, ERIFLEX FLEXIBAR improves assembly flexibility and aesthetics of panels
Ideal alternative to large cable & rigid busbar
Quality: 100% production dielectric tested
Full range from 27 mm2 up to 1200 mm2

Applications
Working temperature -25┬║C up to 105┬║C (-13┬║F up to 221┬║F) ERIFLEX FLEXIBAR
AWM Style 11343 Nominal voltage = 1000 V AC/1500 V DC (IEC & UL®)
Self-extinguishable
High mechanical resistance
High elongation value
High current withstanding
High copper quality (99.9% purity)
High conductivity

Any low voltage cable or busbar design is a candidate for ERIFLEX FLEXIBAR, including:
Power Supplies and Converters
Motor Control Centers
Control Panels
Busbar Systems
Panelboards
Switchboards
AC & DC Drive Units
Transformers
Anywhere cable or busbar limitations present a problem, ERIFLEX FLEXIBAR offers connection versatility
Custom ERIFLEX FLEXIBAR
Custom part fabrication with ERIFLEX FLEXIBAR is relatively easy and can be accomplished with standard tools. For small quantities, ordinary hand tools are adequate. When fabricating large quantities, dedicated production tooling is more cost-effective.
More Information
ERIFLEX FLEXIBAR Characteristics

ERIFLEX FLEXIBAR is UL® Recognized and CSA certified. The black insulation is moisture resistant, flame (VW-1) and UV retardant, and self-extinguishing (UL 94 V0).
ERIFLEX FLEXIBAR connections are made by punching directly through the laminates. Since there are no lugs to purchase, fewer parts are required. Installation is simpler and faster.
ERIFLEX FLEXIBAR is formed with multiple layers of thin electrolytic copper.
Easily formed, ERIFLEX FLEXIBAR holds its shape, increasing the efficiency of your designs. When bending the conductor into place, its laminates slide freely within the insulation, conforming to your design configurations.
Advantages of Using ERIFLEX FLEXIBAR
Requires less installation space when compared to cable
Reduces assembly time
Eliminates the cost and installation of lugs
Reduces the length and number of conductors
ERIFLEX FLEXIBAR is terminated like a busbar, so connections operate at a lower temperature
Improves design flexibility
Easily formed and holds its shape
Insulation allows for closer spacing than traditional busbar designs
Improves aesthetics
Reduces inventory costs
Lower installed cost
Comparison to Cable
When compared to conventional cable, ERIFLEX FLEXIBAR requires less copper to achieve comparable ampacity
ERIFLEX FLEXIBAR offers space savings
No lugs or intermediate connection devices are used, improving reliability
ERIFLEX FLEXIBAR eliminates the multiple cables and lugs which offers the most efficient and cost-effective connection available
TOOLS
ERICO offers a complete family of tools customized for cutting, stripping, bending, twisting & punching ERIFLEX FLEXIBAR.
UL is a registered trademark of UL LLC.

Downloads
Warning, Warranty and Limitation of Liability
WARNING
ERICO products shall be installed and used only as indicated in ERICO's product instruction sheets and training materials. Instruction sheets are available at www.erico.com and from your ERICO customer service representative. Improper installation, misuse, misapplication or other failure to completely follow ERICO's instructions and warnings may cause product malfunction, property damage, serious bodily injury and death.
WARRANTY
ERICO products are warranted to be free from defects in material and workmanship at the time of shipment. NO OTHER WARRANTY, WHETHER EXPRESS OR IMPLIED (INCLUDING ANY WARRANTY OF MERCHANTABILITY OR FITNESS FOR A PARTICULAR PURPOSE), SHALL EXIST IN CONNECTION WITH THE SALE OR USE OF ANY ERICO PRODUCTS. Claims for errors, shortages, defects or nonconformities ascertainable upon inspection must be made in writing within 5 days after Buyer's receipt of products. All other claims must be made in writing to ERICO within 6 months from the date of shipment or transport. Products claimed to be nonconforming or defective must, upon ERICO's prior written approval in accordance with its standard terms and procedures governing returns, promptly be returned to ERICO for inspection. Claims not made as provided above and within the applicable time period will be barred. ERICO shall in no event be responsible if the products have not been stored or used in accordance with its specifications and recommended procedures. ERICO will, at its option, either repair or replace nonconforming or defective products for which it is responsible or return the purchase price to the Buyer. THE FOREGOING STATES BUYER'S EXCLUSIVE REMEDY FOR ANY BREACH OF ERICO WARRANTY AND FOR ANY CLAIM, WHETHER SOUNDING IN CONTRACT, TORT OR NEGLIGENCE, FOR LOSS OR INJURY CAUSED BY THE SALE OR USE OF ANY PRODUCT.
LIMITATION OF LIABILITY
ERICO excludes all liability except such liability that is directly attributable to the willful or gross negligence of ERICO's employees. Should ERICO be held liable its liability shall in no event exceed the total purchase price under the contract. ERICO SHALL IN NO EVENT BE RESPONSIBLE FOR ANY LOSS OF BUSINESS OR PROFITS, DOWNTIME OR DELAY, LABOR, REPAIR OR MATERIAL COSTS OR ANY SIMILAR OR DISSIMILAR CONSEQUENTIAL LOSS OR DAMAGE INCURRED BY BUYER.
Due to a policy of continued product development, specifications are subject to change without notice.
CADDY, CADWELD, CRITEC, ERICO, ERIFLEX, ERITECH, and LENTON are registered trademarks of ERICO International Corporation.