All Countries
Change
ERITECH® Inspection Wells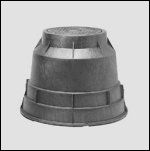 Erico offers ERITECH® Inspection Wells, available in Polymer Concrete or High Density Polyethylene
Features
Polymer Concrete Inspection Wells
Constructed of polymer concrete reinforced with heavy weave fiberglass resulting in high strength and minimal weight
Enclosures and covers are rated for 10,000 lbs maximum load
Bolt down cover, skid resistant surface
Color is concrete gray
High Density Polyethylene Inspection Wells

Constructed of high density polyethylene
Very resistant to acids and chemicals
Applications
ERITECH inspection wells provide a convenient access point to test the integrity and performance of grounding electrodes and connections. Periodic testing of the grounding system is necessary to monitor its performance and alert the facility owner to possible maintenance issues.
More Information
Polymer Concrete Inspection Wells
| | | |
| --- | --- | --- |
| | | |
| Part Number: T416A | Part Number: T416D | Part Number T416F |
High Density Polyethylene Inspection Wells
Part Number: T416B

Color - green
Cover weight - 1.5 lbs
Knock outs - 2 per box (3.5" x 1.5")
Box weight - 3 lbs

Part Number: T416C

Color - black
Cover weight - 4.2 lbs
Box weight - 13.4 lbs
Pipe slot - 2 places
Related Products
Availability
North America
Latin America

Warning, Warranty and Limitation of Liability
WARNING
ERICO products shall be installed and used only as indicated in ERICO's product instruction sheets and training materials. Instruction sheets are available at www.erico.com and from your ERICO customer service representative. Improper installation, misuse, misapplication or other failure to completely follow ERICO's instructions and warnings may cause product malfunction, property damage, serious bodily injury and death.
WARRANTY
ERICO products are warranted to be free from defects in material and workmanship at the time of shipment. NO OTHER WARRANTY, WHETHER EXPRESS OR IMPLIED (INCLUDING ANY WARRANTY OF MERCHANTABILITY OR FITNESS FOR A PARTICULAR PURPOSE), SHALL EXIST IN CONNECTION WITH THE SALE OR USE OF ANY ERICO PRODUCTS. Claims for errors, shortages, defects or nonconformities ascertainable upon inspection must be made in writing within 5 days after Buyer's receipt of products. All other claims must be made in writing to ERICO within 6 months from the date of shipment or transport. Products claimed to be nonconforming or defective must, upon ERICO's prior written approval in accordance with its standard terms and procedures governing returns, promptly be returned to ERICO for inspection. Claims not made as provided above and within the applicable time period will be barred. ERICO shall in no event be responsible if the products have not been stored or used in accordance with its specifications and recommended procedures. ERICO will, at its option, either repair or replace nonconforming or defective products for which it is responsible or return the purchase price to the Buyer. THE FOREGOING STATES BUYER'S EXCLUSIVE REMEDY FOR ANY BREACH OF ERICO WARRANTY AND FOR ANY CLAIM, WHETHER SOUNDING IN CONTRACT, TORT OR NEGLIGENCE, FOR LOSS OR INJURY CAUSED BY THE SALE OR USE OF ANY PRODUCT.
LIMITATION OF LIABILITY
ERICO excludes all liability except such liability that is directly attributable to the willful or gross negligence of ERICO's employees. Should ERICO be held liable its liability shall in no event exceed the total purchase price under the contract. ERICO SHALL IN NO EVENT BE RESPONSIBLE FOR ANY LOSS OF BUSINESS OR PROFITS, DOWNTIME OR DELAY, LABOR, REPAIR OR MATERIAL COSTS OR ANY SIMILAR OR DISSIMILAR CONSEQUENTIAL LOSS OR DAMAGE INCURRED BY BUYER.
Due to a policy of continued product development, specifications are subject to change without notice.
CADDY, CADWELD, CRITEC, ERICO, ERIFLEX, ERITECH, and LENTON are registered trademarks of ERICO International Corporation.