All Countries
Change
ERITECH® Universal Air Terminal Base LP302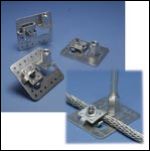 ERICO introduces the ERITECH® LP302 universal air terminal base. The new Series 302 replaces a number of previous models, providing the lightning protection installer with one product for either adhesive or screw-down applications, and mounting on either vertical, horizontal or sloped surfaces, completely eliminating the need for swivel adaptors.
To be used as part of the complete ERITECH System 2000 product range, the LP302 provides models suitable for both UL96 Class I and II applications.
Features
Model available to suit 3/8", 1/2" and 5/8" aluminium or copper air terminals

Stamped from either high quality copper alloy or aluminum, resulting in high strength, improved corrosion resistance and a "spring-like" property that ensure reliable connections over extended periods of time

The unique "cut-out" design for the air terminal supports making the product universal for vertical, horizontal or sloped mounting surfaces

The LPT302 application tool enables the LP302 air terminal base to be modified on site to suit practically any application surface slope or angle

Listed as Class I / II under UL96

Suitable for adhesive or screw down fastening
Copper models also available as tinned
Applications
This product is suitable for use with the complete ERITECH System 2000 lightning protection product range. Please contact ERICO or your nearest ERICO representative for a guide to the complete details on the design and installation of your lightning protection system.
The ERITECH System 2000 product range includes products designed to meet the UL96 component standard. It is also designed for application to your local standard, including but not limited to NFPA780, BS6551, NFC17-100 and IEC61024.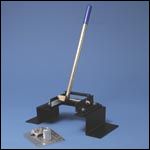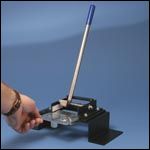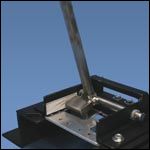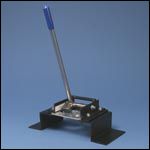 More Information
Ordering Information
| | |
| --- | --- |
| Part Number | Description |
| LPA30212 | Aluminum, Suitable for 1/2" Air Terminal, Universal mount |
| LPA30258 | Aluminum, Suitable for 5/8" Air Terminal, Universal mount |
| LPC30238 | Copper, Suitable for 3/8" Air Terminal, Universal mount |
| LPC30212 | Copper, Suitable for 1/2" Air Terminal, Universal mount |
| LPC30258 | Copper, Suitable for 5/8" Air Terminal, Universal mount |
| LPT302 | Application Tool for LP302 Air Terminal Base |
- Add "V" at the end of part number for factory set Vertical Mount. For example LPA30212V
- Add "L" following the LPC302 in the part number for Tinned Copper. For example LPC302L12
- LPT302 product tool enables user to adjust the air terminal base on site from horizontal up to vertical applications.
---
Our online ERITECH® Lightning Protection Calculator is now available for use!
The online calculator is designed to aid customers in selecting various ERITECH® Lightning Protection products, build a Bill of Materials, request a quotation and view individual product specifications.
To access the calculator, click here.
Downloads
Related Products
Availability
North America
Asia/Australia

Warning, Warranty and Limitation of Liability
WARNING
ERICO products shall be installed and used only as indicated in ERICO's product instruction sheets and training materials. Instruction sheets are available at www.erico.com and from your ERICO customer service representative. Improper installation, misuse, misapplication or other failure to completely follow ERICO's instructions and warnings may cause product malfunction, property damage, serious bodily injury and death.
WARRANTY
ERICO products are warranted to be free from defects in material and workmanship at the time of shipment. NO OTHER WARRANTY, WHETHER EXPRESS OR IMPLIED (INCLUDING ANY WARRANTY OF MERCHANTABILITY OR FITNESS FOR A PARTICULAR PURPOSE), SHALL EXIST IN CONNECTION WITH THE SALE OR USE OF ANY ERICO PRODUCTS. Claims for errors, shortages, defects or nonconformities ascertainable upon inspection must be made in writing within 5 days after Buyer's receipt of products. All other claims must be made in writing to ERICO within 6 months from the date of shipment or transport. Products claimed to be nonconforming or defective must, upon ERICO's prior written approval in accordance with its standard terms and procedures governing returns, promptly be returned to ERICO for inspection. Claims not made as provided above and within the applicable time period will be barred. ERICO shall in no event be responsible if the products have not been stored or used in accordance with its specifications and recommended procedures. ERICO will, at its option, either repair or replace nonconforming or defective products for which it is responsible or return the purchase price to the Buyer. THE FOREGOING STATES BUYER'S EXCLUSIVE REMEDY FOR ANY BREACH OF ERICO WARRANTY AND FOR ANY CLAIM, WHETHER SOUNDING IN CONTRACT, TORT OR NEGLIGENCE, FOR LOSS OR INJURY CAUSED BY THE SALE OR USE OF ANY PRODUCT.
LIMITATION OF LIABILITY
ERICO excludes all liability except such liability that is directly attributable to the willful or gross negligence of ERICO's employees. Should ERICO be held liable its liability shall in no event exceed the total purchase price under the contract. ERICO SHALL IN NO EVENT BE RESPONSIBLE FOR ANY LOSS OF BUSINESS OR PROFITS, DOWNTIME OR DELAY, LABOR, REPAIR OR MATERIAL COSTS OR ANY SIMILAR OR DISSIMILAR CONSEQUENTIAL LOSS OR DAMAGE INCURRED BY BUYER.
Due to a policy of continued product development, specifications are subject to change without notice.
CADDY, CADWELD, CRITEC, ERICO, ERIFLEX, ERITECH, and LENTON are registered trademarks of ERICO International Corporation.