All Countries
Change
SBG150 Portable Rail Grinder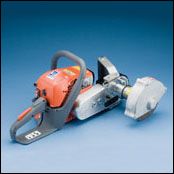 The SBG150 is a gas (petrol)-powered portable rail grinder from ERICO® designed for use with rail steel. The SBG150 allows grinding in tight areas and grinds the head and web with the same piece of equipment.

This powerful, lightweight unit has a 39 cc two-cycle engine that is 10% larger than previous models, yet it weighs only 18 lbs (8.2 kg). Designed with operators' needs in mind, the grinder features an adjustable tool rest that allows the operator to "rest" or support the grinder on top of the rail during use. This helps to eliminate fatigue, and the tool rest can be easily adjusted for proper positioning of the grinding wheel.

The maximum wheel speed is 6,000 rpm, and the power head handle incorporates a base plate to protect the engine from damage. The handle design provides proper balance while in operation, and includes anti-vibration padding to reduce operator fatigue while grinding.

ERICO's unique organic cleaning wheels effectively prepare the rail surface for applying CADWELD® exothermic welded bonds. These innovative wheels are self-cleaning and leave no resin on the bonding surface.

To reduce the possibility of damage and wear from long-term use, the SBG150 offers a stronger shaft and reduces vibration with increased grinding wheel stability. To make grinding projects less problematic, identical spacers help eliminate guesswork when determining proper spacer placement and a smaller adjustable grinding wheel guard rotates 360º to allow for grinding in tight areas. A redesigned toolbox is also available to help with storage and easy transport.


Features
Strong 39 cc two-cycle engine
Power head handle incorporates base plate to protect engine from damage
Lightweight design weighs only 18 lbs (8.2 kg)
Anti-vibration handle reduces operator fatigue and helps provide proper balance while operating the grinder
Stronger shaft increases durability of operation
Increased grinding wheel stability reduces vibration and wear during operation
One piece of equipment to grind head and web
Maximum wheel speed is 6,000 rpm
Adjustable grinding wheel guard rotates 360° and allows operation in tight areas

Applications
For grinding in tight areas and grinding the head and web with the same piece of equipment.
More Information
SBG150

SBG150 grinds the head and web with only one piece of equipment.
Grinding Wheel Options


Slotting Disk Option

Two sizes of grinding wheels are available; all wheels are designed by ERICO® to properly clean the rail surface. All wheels are self-cleaning and organically bonded, leaving no residue to contaminate the bonding surface.

Slotting disks are also available to fit the grinder for trimming rail ends at insulated joints, the removal of bonds and preparing lipped rails. The slotting disks are not recommended to be used for cleaning of rail.
| | |
| --- | --- |
| Part Number | Description |
| SBG150 | Grinder Only |
| SBG150WC | Grinder with Storage Case |
CADWELD® exothermically welded connections bond electrical conductors to the rail without altering the in-service performance characteristics of the rail.
Availability
North America
Latin America

Warning, Warranty and Limitation of Liability
WARNING
ERICO products shall be installed and used only as indicated in ERICO's product instruction sheets and training materials. Instruction sheets are available at www.erico.com and from your ERICO customer service representative. Improper installation, misuse, misapplication or other failure to completely follow ERICO's instructions and warnings may cause product malfunction, property damage, serious bodily injury and death.
WARRANTY
ERICO products are warranted to be free from defects in material and workmanship at the time of shipment. NO OTHER WARRANTY, WHETHER EXPRESS OR IMPLIED (INCLUDING ANY WARRANTY OF MERCHANTABILITY OR FITNESS FOR A PARTICULAR PURPOSE), SHALL EXIST IN CONNECTION WITH THE SALE OR USE OF ANY ERICO PRODUCTS. Claims for errors, shortages, defects or nonconformities ascertainable upon inspection must be made in writing within 5 days after Buyer's receipt of products. All other claims must be made in writing to ERICO within 6 months from the date of shipment or transport. Products claimed to be nonconforming or defective must, upon ERICO's prior written approval in accordance with its standard terms and procedures governing returns, promptly be returned to ERICO for inspection. Claims not made as provided above and within the applicable time period will be barred. ERICO shall in no event be responsible if the products have not been stored or used in accordance with its specifications and recommended procedures. ERICO will, at its option, either repair or replace nonconforming or defective products for which it is responsible or return the purchase price to the Buyer. THE FOREGOING STATES BUYER'S EXCLUSIVE REMEDY FOR ANY BREACH OF ERICO WARRANTY AND FOR ANY CLAIM, WHETHER SOUNDING IN CONTRACT, TORT OR NEGLIGENCE, FOR LOSS OR INJURY CAUSED BY THE SALE OR USE OF ANY PRODUCT.
LIMITATION OF LIABILITY
ERICO excludes all liability except such liability that is directly attributable to the willful or gross negligence of ERICO's employees. Should ERICO be held liable its liability shall in no event exceed the total purchase price under the contract. ERICO SHALL IN NO EVENT BE RESPONSIBLE FOR ANY LOSS OF BUSINESS OR PROFITS, DOWNTIME OR DELAY, LABOR, REPAIR OR MATERIAL COSTS OR ANY SIMILAR OR DISSIMILAR CONSEQUENTIAL LOSS OR DAMAGE INCURRED BY BUYER.
Due to a policy of continued product development, specifications are subject to change without notice.
CADDY, CADWELD, CRITEC, ERICO, ERIFLEX, ERITECH, and LENTON are registered trademarks of ERICO International Corporation.