All Countries
Change
LENTON® STEEL FORTRESS Punching Shear Reinforcement System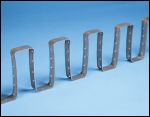 LENTON® STEEL FORTRESS is a shear reinforcement system that provides a simple solution to the complex problem of brittle punching shear. LENTON STEEL FORTRESS consists of a continuous flat steel strip that has holes punched along its center and is pre-bent in the plant into a custom-shaped profile to fit over the top of the flexural reinforcement bars in the concrete slab. The steel strips in the LENTON STEEL FORTRESS System meet or exceed ASTM A505-87 requirements with a minimum yield strength of 72,500 psi (500 MPa) and a minimum elongation of 11%.
The LENTON STEEL FORTRESS System is supplied to the site individually boxed on a per column basis and is custom made to meet your specific application needs. Because the product installs over the uppermost layer of main reinforcing bars, placement is fast and easy. This placing method accommodates unexpected design changes and makes on-site inspection simple. In addition, the horizontal length of the system provides ample space to accommodate irregular rebar placement.
The capability of the LENTON STEEL FORTRESS System to anchor to the top tier reduces the possibility of the induced shear cracks bypassing the shear reinforcement, thus preventing brittle punching shear failure. Because the LENTON STEEL FORTRESS can encapsulate the upper layer without unduly affecting cover, it overcomes the inability to anchor over the uppermost tensile reinforcement layer that some other systems encounter.
The LENTON STEEL FORTRESS has many advantages over other traditional and proprietary punching shear reinforcement systems. It minimizes the need for stud reinforcement systems, column capitals, drop panels and additional stirrups. It also optimizes flying forms, saves time and labor by going in after the rebar is placed, and is exceptionally lightweight and cost effective. In addition, the system develops its yield strength over a much smaller length, enabling it to be used in thinner concrete slabs.
The product is patent protected, ICC®-ES recognized: Report ER-5668 and certified by the City of Los Angeles Report RR25486. It conforms to ACI 318.02, as well.
Features
Cost effective
Installs quickly and easily after rebar placement saving both time and labor
Allows for thinner columns and lower profile concrete slabs
Prevents brittle punching shear failure
Eliminates column capital and drop panels
Easily verified by onsite visual inspection
Lightweight, easy to move on site
Fits into place around post-tension tendons
ICC Recognized: Report ER-5668
City of Los Angeles Certified: Report RR25486
Conforms to ACI 318.02
Applications
Flat Slab construction
Shear reinforcement
Replaces stirrups and stud reinforcement systems
More Information
Patent protected in US (patent 6,003,281), Europe (patent 823,954) and numerous other countries.
The LENTON® STEEL FORTRESS Design Calculator
The LENTON STEEL FORTRESS Design Calculator Software is now available for download. The software is used to determine the amount of punching shear reinforcement needed around a column head and the configuration in which to place it. Download the calculator
here
.
Downloads
Warning, Warranty and Limitation of Liability
WARNING
ERICO products shall be installed and used only as indicated in ERICO's product instruction sheets and training materials. Instruction sheets are available at www.erico.com and from your ERICO customer service representative. Improper installation, misuse, misapplication or other failure to completely follow ERICO's instructions and warnings may cause product malfunction, property damage, serious bodily injury and death.
WARRANTY
ERICO products are warranted to be free from defects in material and workmanship at the time of shipment. NO OTHER WARRANTY, WHETHER EXPRESS OR IMPLIED (INCLUDING ANY WARRANTY OF MERCHANTABILITY OR FITNESS FOR A PARTICULAR PURPOSE), SHALL EXIST IN CONNECTION WITH THE SALE OR USE OF ANY ERICO PRODUCTS. Claims for errors, shortages, defects or nonconformities ascertainable upon inspection must be made in writing within 5 days after Buyer's receipt of products. All other claims must be made in writing to ERICO within 6 months from the date of shipment or transport. Products claimed to be nonconforming or defective must, upon ERICO's prior written approval in accordance with its standard terms and procedures governing returns, promptly be returned to ERICO for inspection. Claims not made as provided above and within the applicable time period will be barred. ERICO shall in no event be responsible if the products have not been stored or used in accordance with its specifications and recommended procedures. ERICO will, at its option, either repair or replace nonconforming or defective products for which it is responsible or return the purchase price to the Buyer. THE FOREGOING STATES BUYER'S EXCLUSIVE REMEDY FOR ANY BREACH OF ERICO WARRANTY AND FOR ANY CLAIM, WHETHER SOUNDING IN CONTRACT, TORT OR NEGLIGENCE, FOR LOSS OR INJURY CAUSED BY THE SALE OR USE OF ANY PRODUCT.
LIMITATION OF LIABILITY
ERICO excludes all liability except such liability that is directly attributable to the willful or gross negligence of ERICO's employees. Should ERICO be held liable its liability shall in no event exceed the total purchase price under the contract. ERICO SHALL IN NO EVENT BE RESPONSIBLE FOR ANY LOSS OF BUSINESS OR PROFITS, DOWNTIME OR DELAY, LABOR, REPAIR OR MATERIAL COSTS OR ANY SIMILAR OR DISSIMILAR CONSEQUENTIAL LOSS OR DAMAGE INCURRED BY BUYER.
Due to a policy of continued product development, specifications are subject to change without notice.
CADDY, CADWELD, CRITEC, ERICO, ERIFLEX, ERITECH, and LENTON are registered trademarks of ERICO International Corporation.