Insulated Braided Shunts From ERICO: The Best Alternative to Cable
Insulated Braided Shunts from ERICO are a convenient, easy-to use alternative to cable.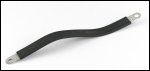 If you're looking for a convenient, easy-to use alternative to cable, choose the Insulated Braided Shunt from ERICO. These highly flexible connections are pre-punched and help to increase the efficiency of your design. Additional features include:
* Quick and easy to install
* Requires no cutting, stripping or crimping
* Provides excellent electrical contact and tensile strength
* Tested and certified
* Integral massivated palms
nVent Electric plc, ("nVent") with a principal office in London, England, and U.S. management office in Minneapolis, Minn., is a global leader of inventive electrical solutions that connect and protect customers by creating safer systems to ensure a more secure world. The nearly 9,000 employees worldwide design, manufacture and distribute electrical enclosures, electric heat tracing solutions, complete heat management systems, and electrical and fastening solutions. In 2018, nVent became an independent, publicly traded company (NYSE: NVT). Its robust portfolio of leading electrical product brands dates back more than 100 years and includes nVent CADDY, ERICO, HOFFMAN, RAYCHEM, SCHROFF and TRACER.
All nVent brands and logos are the property of nVent or its affiliated companies worldwide. nVent reserves the right to change information without prior notification.