Insulated Braided Shunts From ERICO: The Best Alternative to Cable
Insulated Braided Shunts from ERICO are a convenient, easy-to use alternative to cable.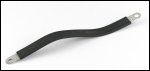 If you're looking for a convenient, easy-to use alternative to cable, choose the Insulated Braided Shunt from ERICO. These highly flexible connections are pre-punched and help to increase the efficiency of your design. Additional features include:
* Quick and easy to install
* Requires no cutting, stripping or crimping
* Provides excellent electrical contact and tensile strength
* Tested and certified
* Integral massivated palms
Pentair Technical Solutions is a global leader of systems and solutions that safeguard industrial controls, electrical components, communications hardware, electronic devices, pipelines, processes and buildings. Its premier brands CADDY, ERICO, Hoffman, LENTON, Raychem, Schroff, and Tracer provide a comprehensive range of standard, modified and custom engineered solutions for energy, industrial, infrastructure, commercial, communications, medical, security and defense applications.
Pentair plc (www.pentair.com) delivers industry-leading products, services and solutions for its customers' diverse needs in water and other fluids, thermal management and equipment protection. With 2014 revenues of $7.0 billion, Pentair employs approximately 30,000 people worldwide.
All Pentair brands and logos are the property of Pentair or its affiliated companies worldwide. Pentair reserves the right to change information without prior notification.