CADDY® Mechanical Fasteners, One-Stop Shopping for Pipe Hangers and Mechanical Supports
ERICO® offers an expansive line of CADDY® mechanical supports and pipe hangers.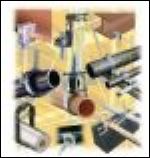 ERICO® offers an expansive line of CADDY® mechanical supports and pipe hangers. The broad line of products for job-site efficiency covers HVAC/R, plumbing and fire-protection applications. Building on the brand recognition and established quality of CADDY, the mechanical line of pipe supports and hangers features clamps, structural attachments, hangers, sway bracing, rollers, roller supports, saddles and hardware.
Featured products in the CADDY mechanical product line:
The TPC tube and pipe clamp that allows for quick positioning of pipe and tube between studs;

The CADDY® SUPERFIX easy-close pipe clamp with a unique hinged design eliminates the need to disassemble the clamp prior to installation and allows the installer to close the pipe clamp with one hand;
CADDY® SPEED LINK, a cost-effective alternative to threaded rod and associated hardware that reduces installation time;

The Rooftop Pipe Support, a cost-effective alternative to wood blocks, straps, clips and other labor-intensive methods for supporting pipes and conduit on roofs.
The CADDY product line from ERICO offers you one-stop shopping for pipe hangers and mechanical supports. Count on CADDY quality.
Pentair Technical Solutions is a global leader of systems and solutions that safeguard industrial controls, electrical components, communications hardware, electronic devices, pipelines, processes and buildings. Its premier brands CADDY, ERICO, Hoffman, LENTON, Raychem, Schroff, and Tracer provide a comprehensive range of standard, modified and custom engineered solutions for energy, industrial, infrastructure, commercial, communications, medical, security and defense applications.
Pentair plc (www.pentair.com) delivers industry-leading products, services and solutions for its customers' diverse needs in water and other fluids, thermal management and equipment protection. With 2014 revenues of $7.0 billion, Pentair employs approximately 30,000 people worldwide.
All Pentair brands and logos are the property of Pentair or its affiliated companies worldwide. Pentair reserves the right to change information without prior notification.