CADDY® Mechanical Fasteners, One-Stop Shopping for Pipe Hangers and Mechanical Supports
ERICO® offers an expansive line of CADDY® mechanical supports and pipe hangers.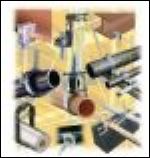 ERICO® offers an expansive line of CADDY® mechanical supports and pipe hangers. The broad line of products for job-site efficiency covers HVAC/R, plumbing and fire-protection applications. Building on the brand recognition and established quality of CADDY, the mechanical line of pipe supports and hangers features clamps, structural attachments, hangers, sway bracing, rollers, roller supports, saddles and hardware.
Featured products in the CADDY mechanical product line:
The TPC tube and pipe clamp that allows for quick positioning of pipe and tube between studs;

The CADDY® SUPERFIX easy-close pipe clamp with a unique hinged design eliminates the need to disassemble the clamp prior to installation and allows the installer to close the pipe clamp with one hand;
CADDY® SPEED LINK, a cost-effective alternative to threaded rod and associated hardware that reduces installation time;

The Rooftop Pipe Support, a cost-effective alternative to wood blocks, straps, clips and other labor-intensive methods for supporting pipes and conduit on roofs.
The CADDY product line from ERICO offers you one-stop shopping for pipe hangers and mechanical supports. Count on CADDY quality.
nVent Electric plc, ("nVent") with a principal office in London, England, and U.S. management office in Minneapolis, Minn., is a global leader of inventive electrical solutions that connect and protect customers by creating safer systems to ensure a more secure world. The nearly 9,000 employees worldwide design, manufacture and distribute electrical enclosures, electric heat tracing solutions, complete heat management systems, and electrical and fastening solutions. In 2018, nVent became an independent, publicly traded company (NYSE: NVT). Its robust portfolio of leading electrical product brands dates back more than 100 years and includes nVent CADDY, ERICO, HOFFMAN, RAYCHEM, SCHROFF and TRACER.
All nVent brands and logos are the property of nVent or its affiliated companies worldwide. nVent reserves the right to change information without prior notification.